Flint House
Buckinghamshire
Flint House, commissioned by Jacob Rothschild, is a unique, award-winning concrete framed residential project. Hidden on a 7,000 acre estate in the Chiltern Valley, Flint House is RIBA's House of the Year 2015.
Designed to nestle into the surrounding landscape, this project incorporated a number of distinctive features, including a natural stream diverted to run through the building itself. It's unique design makes the building appear to be bursting from the earth itself.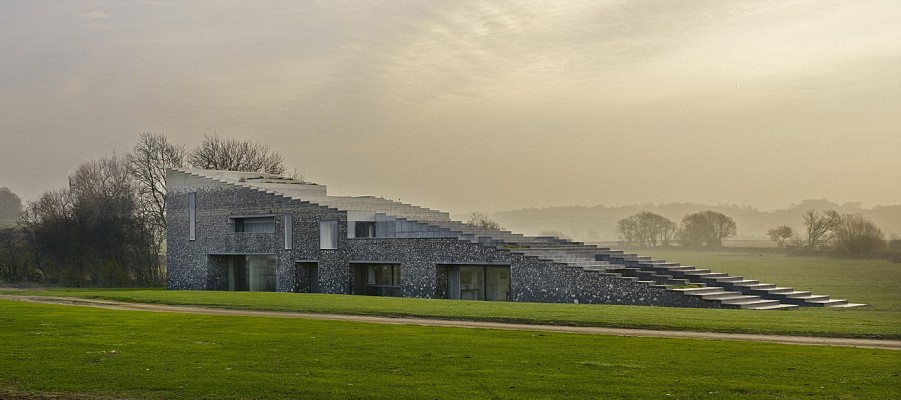 Claywood House
Hook
Built for R. Durtnell & Sons (the oldest builder in the Western world, established in 1591). The new 5-bedroom home, set within a beautiful orchard, has been designed to meet the needs of a client with limited mobility to create a home that allows her to live independently. We undertook work on the foundations, retaining wall and swimming pool.
Marine Drive
The Witterings
Basement in a luxury beachfront home, for West Sussex carpentry and building.
Fir Lodge
1-storey waterproof basement for a luxury 5 bedroom home in a prestigious Wentworth estate for Applegate homes.
Sandy Hill
Surrey Hills, Cranleigh
Hidden in the side of Winterfold hill, we constructed a 30 car underground garage and 4-storey hillside luxury home.
Russell Hill
Purley
Waterproof underground car park and retaining wall for 16 high-end residential apartments for Mantle Developments.
Amroati House
Weybridge
Construction of a bespoke, irregular-shaped concrete staircase for Maisons Developments.